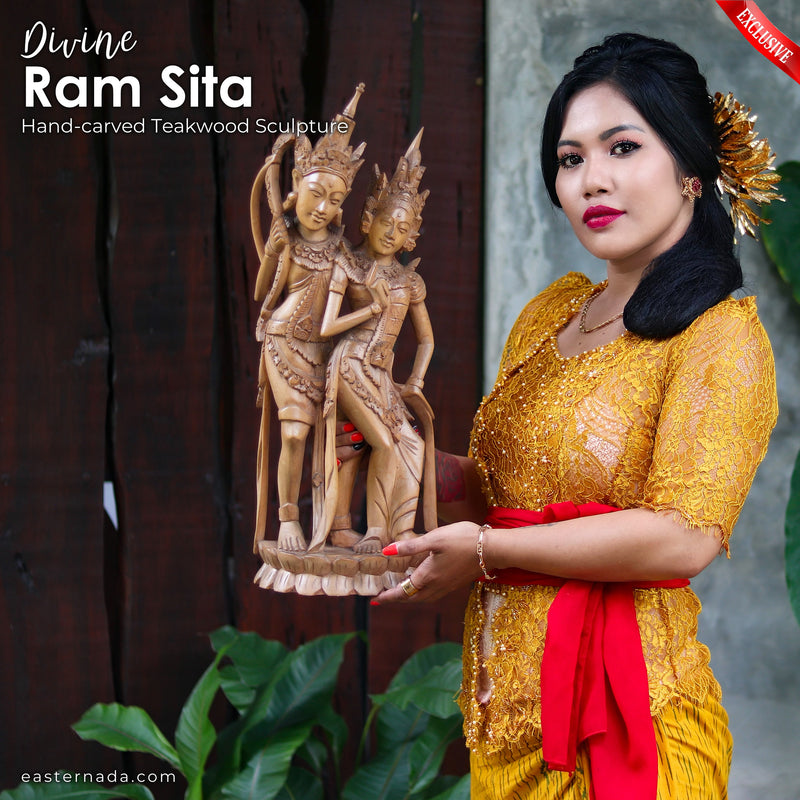 Ram Sita Hand-carved wooden Sculpture Art Hindu Mandir Pooja
This beautiful hand-carved Ram Sita is in great detail using teakwood. This work of wood art has been hand-carved by our skilled carvers and is very unique and rare. Perfect for embellishing any wall or use in a pooja mandir room.
Material: Solid Hardwood
Construction Technique: Hand-carved
Size: Approx. 50 cm* Height
Finish: Polished wax finish
Delivery: Worldwide 2-4 weeks
Hand-carved out of solid hardwood this mandir pooja sculpture is quite unique and rare. The image depicts the Hindu God Ram and Sita. Sita Ram, as a mantra, evokes Rama as Truth, the Soul, and virtue; and Sita as primal energy (kundalini shakti). Rama symbolizes the inner fervor in the Manipura (solar plexus) chakra that purifies the body and spirit. Sita symbolizes the energy of the Muladhara (root) chakra that provides grounding and calms the mind.
*Due to the handmade nature of this item, minor variations in colour, texture, shape, size or style may be possible. This does not affect the overall beauty of this unique hand-carved piece.