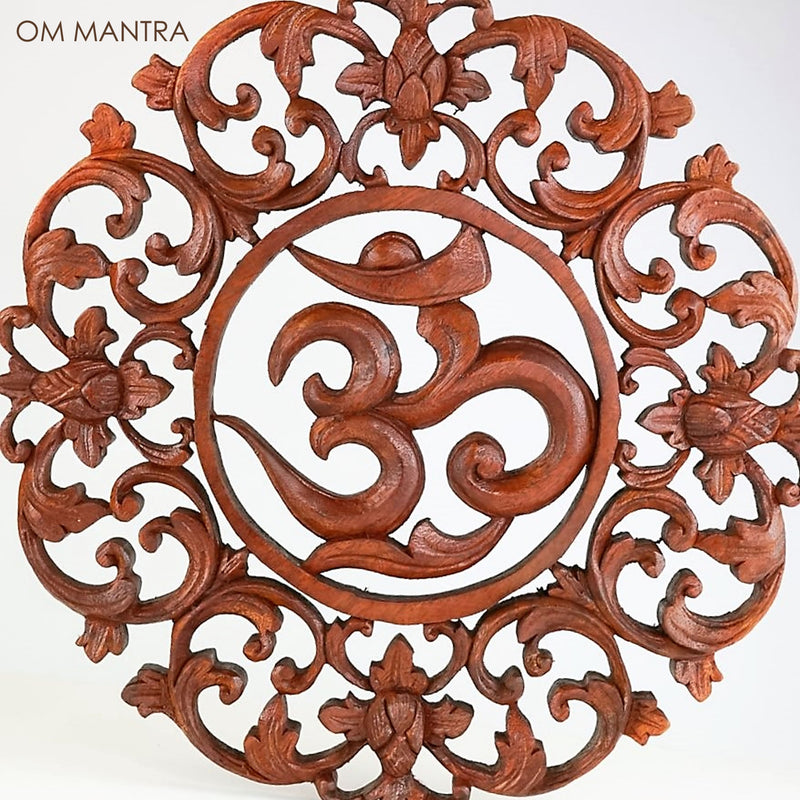 Om MantraHindu Pooja Yoga Hand Carved Wooden Decorative Panel
Om is not a god or goddess but a sacred sound that represents the essence of everything in existence. Hand-carved from solid hardwood this intricate design will undoubtedly grace the interior decor of any room.
*Size: 40 cm Round
Material: Solid Hardwood
Construction Technique: Hand-carved
Delivery: Worldwide 1-2 weeks
Om symbol is said to represent the one-ness of all creation, including the heavens, earth, and underworld. Others say it is the representation of the three Hindu gods, Brahma, Vishnu, and Shiva. Om is considered one of the most powerful mantras, and the ritual of chanting Om has been done for thousands of years.
Handcrafted by skilled craftsmen this one-off piece is unique and simply amazing. The intricate carvings take over 10 days to complete, painstakingly detailed to perfection. Each piece is passionately designed and carved out and no two pieces are alike, making each carving quite unique. This will undoubtedly grace the interior decor of any living space and embellish the home further. Made from sustainable hardwood, sourced from sustainable forests

* Due to the handmade nature of our items, small variations in size, colour, shape, pattern, or other characteristics may be evident. Each piece should be considered a truly unique work of art, lovingly crafted by hand. The natural quality of the wood in this piece is showcased by the care put into carving it. Each piece is finished individually, creating a truly unique work of art.