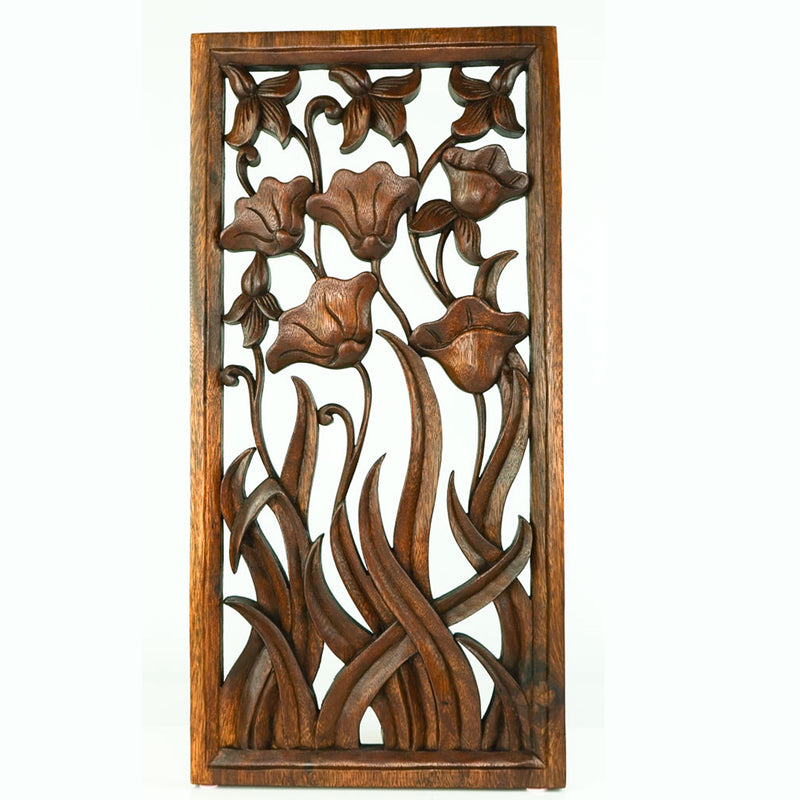 Hand Carved Teakwood Room Wall Art Decorative Sculpture Headboard Gift
Lilies in Bloom Carved Wooden Decorative Panel Wall Art
*Approx. Size: 60 x 30 x 2 cm

This exquisite piece of wooden wall art or decorative sculpture is a one-of-a-kind creation crafted by skilled artisans. Its antique style and intricate carvings were carefully completed over several days with an eye for perfection.
. Each piece is individually designed and carved with passion, resulting in unique and unparalleled decorative art that cannot be replicated.
The use of sustainable hardwood sourced from eco-friendly forests adds an extra level of appeal to this already remarkable piece. It is not only beautiful but also environmentally conscious. It is an exceptional addition to any living space, adding a touch of uniqueness and elegance to any home decor.
If you are looking for a distinctive and sustainable gift, this wooden wall art or decorative sculpture is a perfect choice. Its unmatched style and quality make it an ideal present for any occasion. Overall, this wooden wall art or decorative sculpture is an ideal choice for those who appreciate unique and environmentally friendly home decorations.

* Due to the handmade nature of our items, small variations in size, colour, shape, pattern, or other characteristics may be evident. Each piece should be considered a unique work of art, lovingly crafted by hand. The natural quality of the wood in this piece is showcased by the care put into carving it. Each piece is finished individually, creating a truly unique work of art.