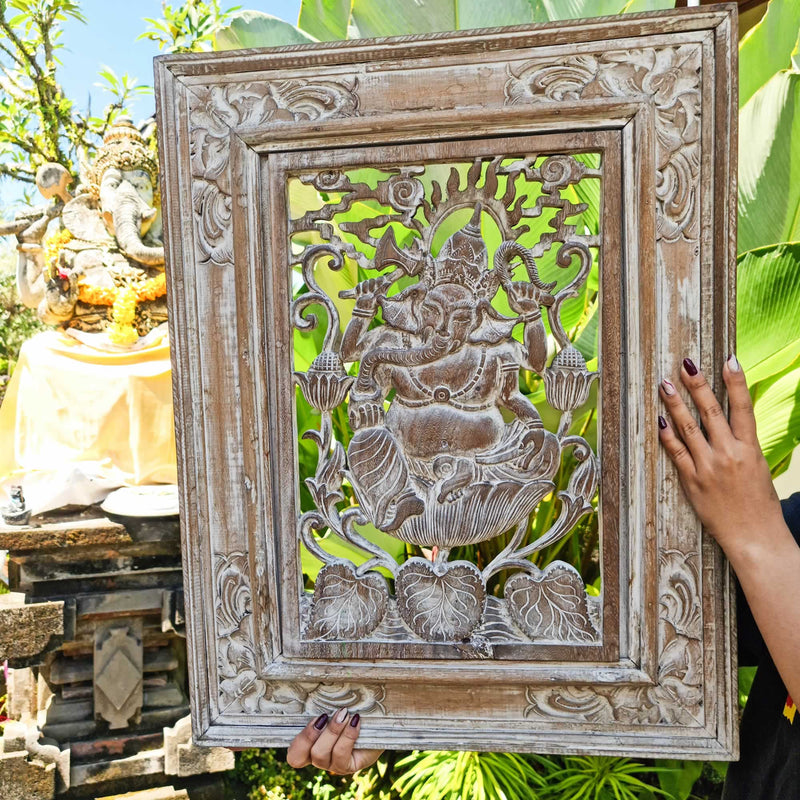 Ganesha Hindu Mandir - Hand-carved Distressed White Antique Style Decorative Wall Art Sculpture
This stunning hardwood distressed white hand-carved Ganesha Ganapati is very desirable. With intricate details, this extra-long decorative wall art sculpture is a must to enhance your décor. The lifelong beauty of hardwood combined with the passion for hand carving will undoubtedly become a focal point in your home. A timeless masterpiece carved by our skilled master craftsman.
Size: 40 x 50 cm* or (16" x 20" inches)
Material: Solid Hardwood in Distressed White
Construction Technique: Hand-carved with Metal-Hooks at back for easy Installation
Delivery: Approx. 2-4 weeks worldwide
This has been exclusively hand carved by our expertly trained and skilled carvers. Only one ever made so it is very unique in nature. Get your hands on it while you have a chance. The antique look, and distressed white finish makes this hand-carving Ganesha looks stunning and will be suitable for any room decor.

*Due to the handmade nature of this item, minor variations in colour, texture, size, style, and design may be possible. This does not affect the overall beauty and unique nature of this masterpiece.