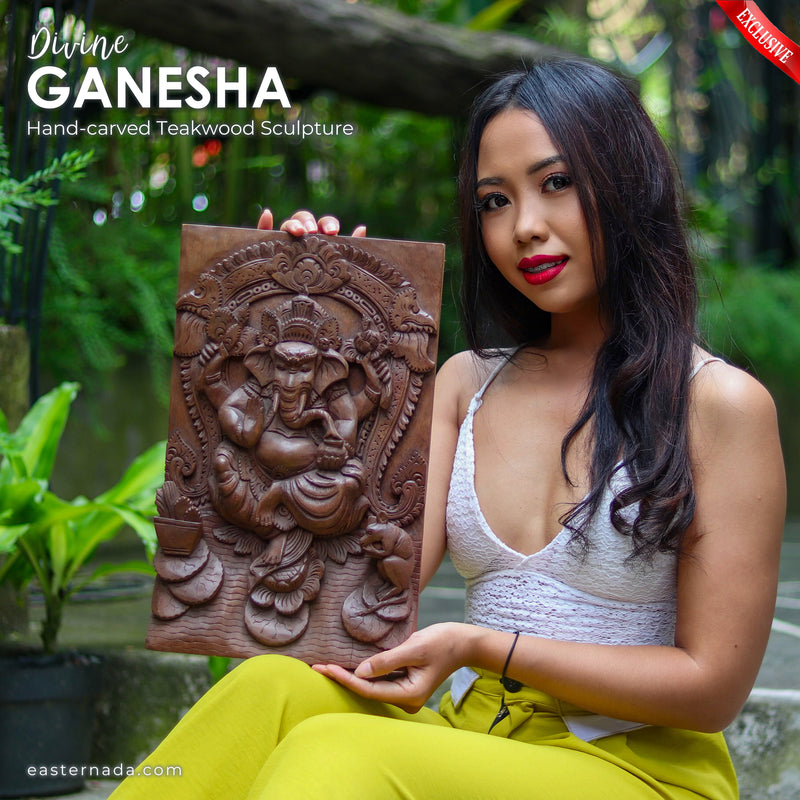 Ganesh Ganapati Decorative Wooden Wall Sculpture Hindu Art
A stunning work of art. Hand-carved from solid hardwood this Ganesha Hindu God will undoubtedly adorn and home and bring blessings and prosperity. This one-off piece is unique and desirable.

Size: 40 x 30 cm*
Material: Solid Hardwood
Finish: Dark Oak polished wax finish
Construction Technique: Hand-carved. Metal hooks fitted at the back of the panel
Delivery: Worldwide 1-2 weeks
This is a stunning hand-carved teakwood Ganesha Ganapati Hindu God statue that depicts Divine Ganesha in all his glory. The intricate carving and attention to detail make this statue a true work of art. It is perfect for those who are looking for a unique and rare piece of Hindu art. The statue is made from solid teakwood and is a testament to the skill of the craftsmen who created it. Praying to Ganesha can bring peace and prosperity into your life.
*Due to the handmade nature of this item, minor variations in colour, texture, shape, size or style may be possible. This does not affect the overall beauty of this unique hand-carved piece.